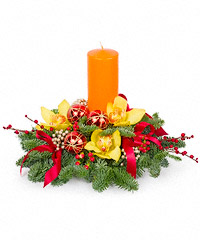 Christmas in Russia is a celebrated holiday accompanied by Father Frost and his granddaughter, lots of good food and sweet drinks that have symbolic meaning for the season. The New Year is even more popular in this culture ensuring that citizens have several days of celebration and spending time together with family and friends. Why not send Christmas flowers to those who are near and far to let them know that you are thinking about them this holiday season.
Christmas flowers are a special kind of gift that can be ordered online at MegaFlowers.com and delivered anywhere in the world by the top floral experts in the industry. Shoppers can choose the bouquet, tree, wreath, basket or candle that works best for them and then customize it through the easy to use website options. Search by price, color, flower type or season and then make it unique for each recipient even if you are sending them the exact same arrangement!
MegaFlowers.com allows the users to modify the quantity of the items included in the arrangement so that you can add ribbons and Christmas balls, decrease greenery or add more of your favorite blossom. Deep red, orange, green and crystal clean white are all colors commonly seen and used in decorations so the flowers will fit right in as the finishing touch for anyone of your holiday accessories.
Regardless if you are buying for co-workers, employers, employees, family or friends you can make the arrangement as personal as you want knowing that the final result will always be professional. Send a candle and flower mantelpiece to your grandmother or a whimsical snowman to a niece or nephew that will appreciate the thought. Play Father Frost and purchase a table centerpiece for the employee holiday party or ring in the New Year with a bouquet of red roses that will let her know a magic question is coming that will change the future.
Once you complete the customization then you can proceed to the secure checkout and enter in the delivery address and timeframe so that it gets there when you want it to. MegaFlowers.com works with floral experts all around the world so that every order is custom made upon request and delivered fresh and beautiful to the recipient. This is just one of the reasons why they have such a high customer satisfaction rating along with their affordable prices and outstanding customer service.
Christmas flowers are an ideal addition to the Russian season's traditions and rituals and can say volumes when you are not able to be there to hug and wish everyone a Merry Christmas on your own. Send a little piece of yourself this holiday by allowing MegaFlowers.com to handle the details for you and getting the message to whoever you want no matter where they are in the world this season.